DENNIN ALESTE
Under construction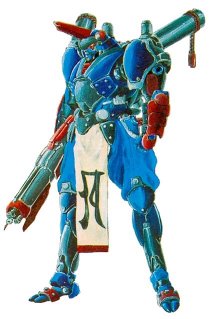 418x638 (51k)
Released in 1992, on MEGA-CD and by COMPILE, this ALESTE sub titled NOBUNAGA AND HIS NINJA FORCE had not marked the memories of players, despite everything, it propose a good production (even if MEGA-CD capacities weren't exploited to the max), it also propose a great music work mainly provided by KATSUMI TANAKA, an animated introduction, animated climax scenes and the legendary know-how of COMPILE in vertical shooting game domain.
The story is a bit unusual but yet original, it take place in a medieval Japan context, with struggle for power of well known Japanese war lord of History, as ODA NOBUNAGA. The science-fiction touch is the use of giant mechanical combat armors in these unceasing wars. The plot is classical in this medieval background, NOBUNAGA fights against the other famous lords, whom are serving the views of the mysterious ASTAROTH, in this time of war, everything is only plots between daïmio and use of deadly and silent ninjas. KAGERO is one of these ninja, serving NOBUNAGA, and it's him you pilot with his armed armor. That struggle for power causes a lot of victims and some villages suffers from the exactions of warriors, SAEBA one of these villager will rise to fight KAGERO to avenge a crime commited in fact by KUROGANE, the direct adversary of KAGERO, with a similar equipement and serving ASTAROTH. This clans war story do not end as it does in real History, but you have to figured it out by yourself.
In my opinion, I think the game is really cool and rather difficult to be enjoyed a long time, moreover if you finish the game, you will access in option mode to bonus CG, Super Deformed ones and non-S.D. ones (rha, ASTAROTH SAMA ! Sugoiii !).
Concerning CG's, I found one fan-art on the web, but infortunately I can't remenber the author name, but I will find it one day, and then I will honore his name as deserved.

Saeba fan-art (127 k)
A little detail concerning the voice actor of KUROGANE, it's AKIRA KAMIYA, well known in animation domain, he had been the japanese voice of KEN (HOKUTO NO KEN) and of RYO SAEBA (CITY HUNTER) and many others. It was just a precision.
I propose few screenshots (one found on the net and 3 others sent by BYBLO [thanks]), I haven't tested my MEGA-CD emulator, but I will in the future, be patient.
TIPS
Stage select : Enter option mode, select sound 3a, the hard difficulty level (next to last one) and with the CD.DA choice, you will select your stage. Go out pressing start and B button. If you choose the continue option, you will be sent to the selected stage.