GG ALESTE 2
Under construction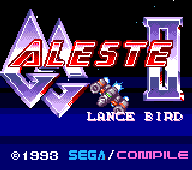 In 1993 is released the sequel to GG ALESTE (release by SEGA), this ROM cartridge for GAME GEAR is simply the best shooting game (in vertical scrolling) of the machine.
It propose bonus stages like mini SPACE HARRIER game, the production is beyond reproach, even with special effects as the screen deformations when THE bomb is thrown (only one bomb per life, got to keep it till the right moment, we're not in my playing of SAPPHIRE / SAFAIA on NEC...).
The main character of this opus is not ELLINOR, but another charming person about whom I can't tell much, one more time I must say that this game is rare in France (complete package with manual is a true miracle), so I don't possess the booklet and illustrations for my scanner. I'm also in that case for the first GG version (easier to find but very hard to find in a complete version), so if you can help me in some way, click on the CARBUNCLE below to send me a mail.