GG ALESTE
Under construction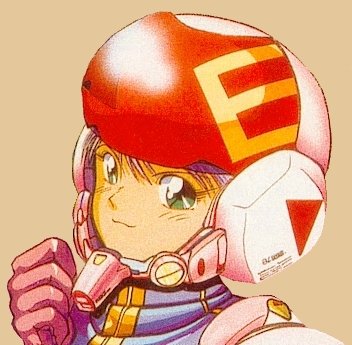 This ROM cartridge released by COMPILE in 1991 on the SEGA GAME GEAR, was already one of the best shooting game in vertical scrolling kind of the machine (as often with COMPILE shootings in my opinion, the 2 bests of the NEC, the best of MEGADRIVE, the 2 bests of MASTER SYSTEM, the best of SFC, the bests of MSX..., guess the names, it rhyme with ALESTE).
We find again the "ALESTE Touch" of course, and also one of its main character, ELLINOR WAISEN, already met in M.U.S.H.A. ALESTE, daughter of RAY WAISEN (hero of first ALESTE episode). The game is truly well made, well programmed, and rather difficult (in special mode only), the only better game in its category is the sequel, GG ALESTE II.
(I must mention that in Europe and may be in United States, the game is named GG POWER STRIKE which is also the title for ALESTE foreign adaptations on MASTER SYSTEM)
I must admit that I feel ashamed to propose you this so short rubric on this great game, screenshots galleries will come in further updates, in prority I must maintain the site for the soon release of ZANAC x ZANAC.

5k
TIPS :
Sound test mode : At the title screen, maintain 1 and 2 button pushed then press start, you will gain access to the sound test.
STAFF of GG ALESTE
to know the names of the people responsible for this master-piece
Planning
-AKABAY YUKINORI T
-HIROKI KODAMA
Program
-AKABAY YUKINORI T
Graphic design
-HIROKI KODAMA
Sound
-KG TAKEUCHI
-MR SAKODA
Sound effect
-MATS
Supervisor
-JEMINI HIRONO
Concept Adviser
-KAZUYUKI NAKASIMA
Produce
-MOO NIITANI
Thanks
-NORIBAY TSUKIJI
-SHINOPY
-TAKA
-JANUS TERAMOTO
-YUICHI TOYAMA
-KEROL
-FUBON
-FUKUSABUROH
-YONEMITSU
-KENICHI YOKOO
-AI AI
-SONCHOW SAWA
-DECOMATZ